Cocktail of the Month: The Autumn 'Rum Bunny'  
By
November 8, 2023
0
386
•
---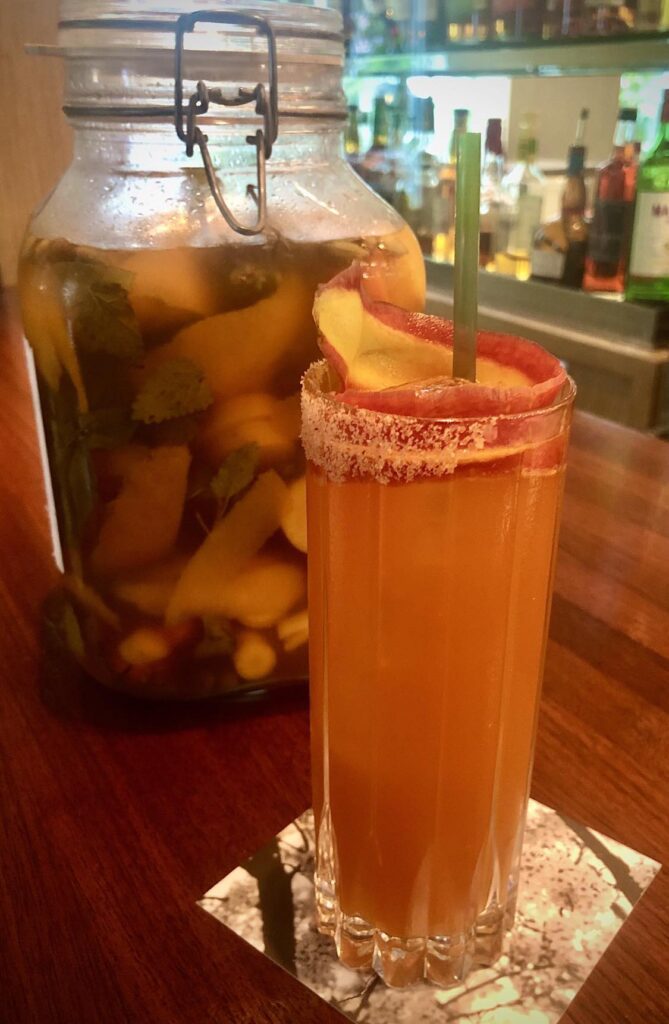 Late October was an interesting time in D.C. While the Republicans were mired in a prolonged game of "trick or treat" trying to elect a speaker, a spate of summery weather provided the perfect climate for Malibu Barbies and Kens to strut their stuff at Dupont's annual Halloween high-heel race. Meanwhile the White House hosted a low-keyed State Dinner with the Australian Prime Minister Anthony Albanese.   
Also in October, West End's Blue Duck Tavern unveiled a collection of Autumn cocktails highlighting freshly harvested ingredients. While traditional stone fruits such as apples and plums played an important role in their new menu, the creative bar staff at BDT can always be counted on to push the culinary envelope.  
I was intrigued by a carrot-themed cocktail with rum. A staple ingredient in the juice industry, carrots have a natural sweetness that shines brightly when extracted in liquid form.  
Carrots have been trending in the last few years for their health benefits. Long-known for their ability to enhance vision —Have you ever seen a rabbit with glasses? — these nutrient-dense root veggies are packed with beneficial antioxidants, vitamins and beta-carotene. Additional evidence indicates that carrots can boost skin health and cut down the risk of cancer.   
And anyone looking for a way to extend their summer beach look into fall will know about one of the latest TikTok crazes. Beauty influencers are touting carrots as a way to get a "sun tan," recommending three large carrots a day for an orangey glow.   
Blue Duck's Rum Bunny cocktail incorporates carrots in two ways. The first is a carrot shrub harvested from heirloom carrots grown in the restaurant's rooftop garden and the second is from a house-made carrot-ginger syrup. These two elements play off each other nicely, with the acidity of the shrub rendering a bold tang and the ginger providing an intriguing edge.   
The base spirit of Parrot Bay white rum is infused roasted gala apples. Baking the apples slightly caramelizes them and imparts a complex character that avoids becoming too cloying or cliché.   
The brainchild of lead bartender Alyssa Steptoe, the Rum Bunny, is served in a tall glass with a cayenne salt rim which starts the drink off with a punch that's immediately contradicted by bits of sweetness and cool refreshment and finished with earthy tones at the end. Like a crisp Indian summer day, the Rum Bunny cools and warms you at the same time.    
Bartender Michael Hillman recommends this cocktail for its sweet, sour and spicy flavors. "It's the perfect balance," he said, "It hits all the palate points."  
Elevating its aesthetics, the drink is garnished with a multi-colored ribbon peeled from heirloom carrots. It's as pretty to look at as the foliage on rock Creek Park.  
Blue Duck's other fall cocktails include a barrel-aged white Negroni, forged from Blue Coat Gin and gran classic bitters, Mancino Secco vermouth, and Cocchi Americano and Hillman's own creation, And Just Like That, made from green apple-infused Wheatley vodka, Combier orange liqueur, apple brandy, cranberry-clove syrup topped with green apple foam and a dusting of hibiscus powder.  
The restaurant has long been known for its creative approach to cocktails and Hillman credits their success to "supportive leadership." The fall libations will be available through Dec. 31.